Our LARX CARBON-FILM.COM heating system is suitable for any floor covering certified for underfloor heating. There are two variants of installation – directly under the floor covering or under the screed (or dry construction floorboards).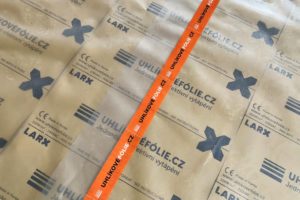 Both variants have their advantages. With the classic method of installation under the screed, the customer can choose any covering, whether folded, glued, tiles or carpet. However, due to the screed heating, it will always take a little longer for the room to warm up, and the system will respond more slowly. The system works as a semi-storage. It is used where increased durability, performance and variability are needed.
In modern, well-insulated houses, the application of carbon film directly under vinyl or laminate flooring is more often used. The condition is that it must be folded (so-called click system). This heating system has great dynamics, fast heating and practically no overheating of the room.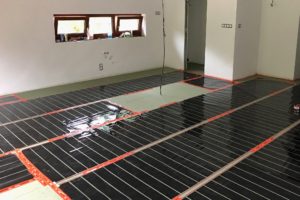 Some manufacturers formally oppose the unprofessional installation of heating film directly under the floor covering, where an insufficiently regulated performance foil could in exceptional cases damage the floor. Of course, we know the technical parameters of the floors and we approach the installation professionally.
Directly under the floor covering, we always design such a heating output within the heating project so that the floor cannot be damaged and at the same time that the floor temperature does not fluctuate. We always regulate the maximum floor temperature with a floor sensor according to the standard.
For example, we have a lot of positive experiences with the Quick Step floor. Other manufacturers of floating floors that approve carbon foils include Egger and Fatra.
You can find our Prague carbon foil showroom in the Atex Planá store, which is a seller of Quick Step floors for the Czech Republic.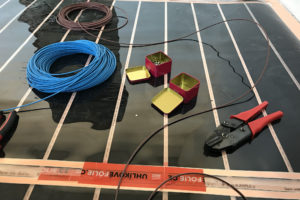 More information on our website carbon-film.com.