Our company was given a chance to prove the potential of a smart home and at the same time its expertise. We were approached to implement online intelligent heating control. It was an apartment building with 36 residential units.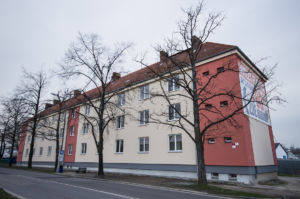 The experiment was carried out in 10 apartments in cooperation with the state supervision and the energy auditor. 5 temperature sensors were installed in each apartment. Data from all sensors were transferred online to the mobile application and temperature corrections were performed automatically in real time.
Thanks to our technology and the intelligent Loxone system, we monitored the temperature in each room and individually controlled the heating output. In addition, the client can monitor the data online in the application.
Thanks to the experiment, it was verified that if a smart control system is installed in the building, it is possible to save up to 20% on heating costs. Thanks to the possibility of controlling the temperature remotely and having an overview of the situation in all rooms, some of the rooms will not be overheated and it will not be necessary to ventilate excessively. A huge added value of the whole system is that the client always has all the data available, sees the current values ​​and can change them.
From the reference measurement, the energy auditor created an overall measurement report, with the results and selection of the most suitable heating methods in the building, which are the most economical and comfortable for the customer.